West Kelowna Cardlock Upgrades
The current hardware at our cardlock sites is aging, so we are in the process of upgrading to an entirely new cardlock system. This new system is already up and running in Midway, Penticton, Princeton and Oliver and it is working very well so we are excited to start changing our other sites!
What does this mean for our clients?
If you currently have a card with a PIN code: You don't have to do anything. The cards will work the same with the new cardlock system. But expect some service interruptions during installation times.
What If I Don't Have a Card & Key In My Code Followed By My PIN Number?
The 'keying' in feature isn't operational on the new system. So before we upgrade our mainstream sites, we need to make sure our current clients can still get fuel!
Going forward, you have two options:
Call (250) 769-0567 or stop into one of our offices to get a physical card. You can continue to use your 'keying in' code until we change out the hardware, but you will need get a card for when you go to a site that is on the new GIR system – so please don't delay.
We are so excited to introduce a new Mobile ID function with the new hardware. Download the GIR Mobile ID app from the Apple App Store or Google Play Store that will allow you to 'tap' your phone on the new readers, it will have a unique identifier that is only yours. The app will look like the photo below. You'll still need to call or come in for us to connect your unique code to your account, but then you'd have the convenience of not carrying a card like you're used to!
Our staff can help you with the download if needed!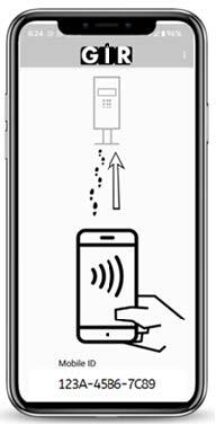 Fuelling Homes and Businesses Across the Okanagan